26th Annual PARTYFEST!
Date: Wednesday, January 8th, 2014
Place: Dallas Market Hall – Dallas, TX 2200 N. Stemmons Frwy. @ Market Center Blvd. 

Click Here for a map of Dallas Market Hall

Times: 11a-5p Trade Show/Silent Auction-benefiting nonPareil Institute/12p-4p Educational Seminars
Attendee Cost: $10.00 at the door - FREE PARKING
Complimentary parking lot shuttle service provided

Click here to view 2014 exhibitors
What is Partyfest?
The 26th Annual Partyfest "Spring Showcase" is the largest one-day exhibition & trade show of its kind held in the Southwest… a spectacular one-day event featuring over 200 of D/FW's top party & event suppliers. Check out the hottest industry trends while networking with the pros. Educational seminars, food & beverage samplings, silent auction & exciting  new product  demonstrations will be highlighted throughout the day to help YOU plan your next special event. MARK YOUR CALENDAR!!! Partyfest "Where Great Parties Begin!"
Who is Exhibiting?
D/FW's Finest…Caterers, Multi-Purpose Facilities, Party Ranches, Hotels, Party & Event Rentals, Interactive Games, Casino, DJ's & Karaoke, Live Bands, Unique Entertainers, Event Staffing, Ad-Specialties & Gift Items, Florists, Restaurants, Audio Visual, Photographers, Props, Decor, Tents, Staging, Sound & Lighting, Transportation and much more.
Who is Invited?
Over 10,000 personal invitations are sent directly to D/FW's top producing businesses, corporate meeting planners, social party planners, concierges, wedding planners, association planners and industry affiliated organizations. Invitations are also extended to anyone who's planning a party or event in the Dallas Fort Worth area. This is D/FW's premier showcase of unique ideas for planning the perfect event!
What's New?
3 Amazing Educational Seminars!!!
Facts! Fiction! Fundraising! 12:30 – 1pm
This informative seminar will focus on successfully selling sponsorships, silent and live auction strategies and emerging event technology that will not only increase funds at your next event, but create an experience your guests will never forget. Join us as we discuss how to utilize these tools in your Public Relations efforts to increase your reach, while attracting your perfect target audience. Our expert panel will share effective strategies to make your next fundraiser a smashing success!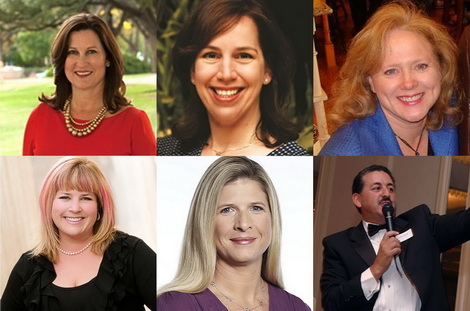 Speakers from left to right: Gay Donnell – President CEO Lee Park & Arlington Hall Conservancy, Leslie Thompson – Executive Producer Hatch-an-App, Claire Murad – Vice President Murad Auctions, Marla L. Watson-Chicgeekgirl – President CEO at Peapod Group, Kristi Bare – Owner Purple Logic, LLC and Louis Murad – President Murad Auctions.
What's Hot in the World of Flavors for 2014! 2 – 2:30pm
Celebrity Chefs 

Kent Rathbun

, 

John Tesar

 & 

Tre Wilcox

 will be center stage at this year's Partyfest! From Sea Foraging to Exotic infused cocktails, what flavor profiles match your events? What fun new palate pleasers should D/FW foodies be on the lookout for? We want to share with you what is hot in the culinary world – from local sustainable ingredients to the world of big, bold flavors. Join us for this interactive chat with some of our favorite chefs, and hear how these amazing culinary genius's let the food speak for itself!
Speakers from left to right: Kent Rathbun – Iron Chef America winner and current executive chef/owner Abacus, Jasper's & Rathbun's Blue Plate Kitchen, John Tesar – Food Network's Extreme Chef inaugural season winner, Bravo's Top Chef (Season 10) contestant and current executive chef/owner Spoon Bar & Kitchen, Tre Wilcox – current executive chef/owner Tre Cooking Concepts, Bravo's Top Chef (Season 3) & Iron Chef America contestant.
Effect of EFX! 3:30 – 4pm
Want to take your next event to infinity and beyond?The technology of events is getting more and more amazing, and we have the very best and sought out professionals right here in Dallas. From gorgeous Pyrotechnics to incredible 3D lighting and image mapping to interactive furniture & decor, effects are turning great parties into unforgettable events. Come SEE how special effects can enhance the look & feel at your next business meeting, conference or special event!  

Speakers from left to right: Hyacinth Belcher CSEP – Co-owner Onstage Systems, Debbie Jordan – President & CEO Magic Moments Parties & Events, Inc., Randy Beckham – President Pyrotex, Inc.
Partyfest is Proudly Sponsored by:
The Dallas Convention & Visitors Bureau, D/FW Chapter-Meeting Professionals International, International Special Events Society-Dallas Chapter, Texas Meetings + Events Magazine, Texas Association of Event and Convention Professionals, Texas Jewish Post, Peapod Group, D/FW Chapter-Hospitality Sales & Marketing Association, Onstage Systems, Corporate Concierge Inc., Fun Factory Events/Superior Expo, Security Reconnaissance Team and Dallas HD Films.